For even the Son of Man came not to be served, but to serve...
Serving at APCH

"For we are his workmanship, created in Christ Jesus for good works, which God prepared beforehand, that we should walk in them" Ephesians 2:10

We are eager to find out who you are and what special gifts you bring to APCH. The church flourishes when we offer our hearts, passions and talents to live like Jesus did and meet the enormous needs all around us. Whether it is mentoring our youth, caring for those in need, pouring out your voice or making use of your gifts of administration, there is an opportunity for you to be blessed and in utilizing your talents with the ministry needs of the Church.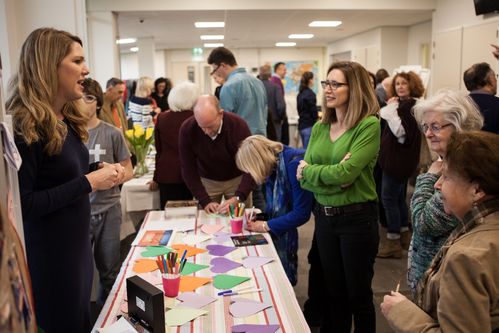 Service Opportunities at APCH include:
Children's Teacher
Children's Ministry Assistant
Youth Leader / Instructor
Bible Study Leader / Adult Teacher
Security / Parking / Outside Greeter
New Guest Welcome Greeter
Musician—instrumental, voice, choir
Sound and Media Technician
Administrative Volunteer
Facilities Volunteer
Care—Lay Pastoral Care Team
Care—Prayer Team Member
Usher
Reader
Flower Arranger
Coffee / Food Preparation and Serving
Communion Server/Liturgist
Council Committee Chair / Member
Use your unique gifts to help build the Kingdom.
If you are interested in serving and devoting your God-given talents to the well-being of others and considering how you may get involved., please click on the buttons below to sign up
Loving Church Nursery Volunteer
Qualifications
:
Is at least 16 years old and a member of APCH for a minimum of 3 months, a faithful attender, willing to confirm the APCH mission and have a completed VOG and signed Safe Church Policy document on-file before beginning
Responsibilities
Has a love for children and a desire to see them grow spiritually
Strives to be a positive example for kids and other volunteers to follow
Actively supervising and engaging children in the nursery, making sure they are safe at all times, basically you will rock the babies, read stories, sing songs, play with toys but also change diapers and clean running noses


Cleaning and sanitizing the nursery room weekly before and after the services – you will be informed more about what and how is required to do


You need to arrive at 9:30 am and stay until 11:30 (first service) or arrive at 11:15 and stay until 12:45


You are able to serve at least once a month, work in a team and be committed to a previously agreed working schedule
Questions about volunteering?
We love to clarify volunteering requirements. Please reach out if you still have questions and learn more about any of the above opportunities, please contact
[email protected]